Fun with "SPRNG" on the web
Sandro Botticelli, Primavera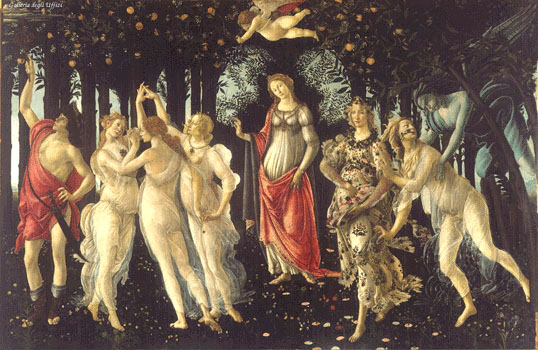 Sometimes called the Allegory of Spring, Botticelli painted the Primavera for Lorenzo di
Pierfrancesco de'Medici to decorate his villa on the outskirts of Florence. This painting is
now in the Galleria degli Uffizi in Florence.

Primavera Links:
Antonio Vivaldi, The Four Seasons
Antonio Vivaldi (1678-1741) was an Italian music composer. His most famous work is The Four Seasons, which is a collection of four concertos that musically depicts the four seasons. The Four Seasons has become one of classical music's most popular pieces. Below are links to the first concerto, titled Spring.

| | | |
| --- | --- | --- |
| Spring 1st Movement Allegro | mp3 | 3:25 |
| Spring 2nd Movement Largo E Pianissimo Sempre | mp3 | 2:15 |
| Spring 3rd Movement Allegro | mp3 | 4:00 |
| Spring, all three movements | midi | 10:21 |
The Four Seasons Links:
Spring Has Sprung
http://www.riverdeep.net/teaching_the_news/news_2000/march/front.220300.spring.jhtml
This site talks about the spring season, spring myths and legends, spring celebrations, and much more.